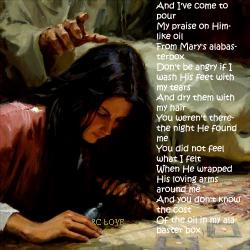 Mark 14:3-7 (New Living Traslation) 3."Meanwhile, Jesus was in Bethany at the home of Simon, a man who had previously had leprosy. While he was eating, a woman came in with a beautiful alabaster jar of expensive perfume made from essence of nard. She broke open the jar and poured the perfume over his head.
4. Some of those at the table were indignant. "Why waste such expensive perfume?" they asked. 5. "It could have been sold for a year's wages, and the money given to the poor!" So they scolded her harshly.
6. But Jesus replied, "Leave her alone. Why criticize her for doing such a good thing to me? 7. You will always have the poor among you, and you can help them whenever you want to. But you will not always have me. "
Mark 14:8,9 8." She has done what she could and has anointed my body for burial ahead of time. 9. I tell you the truth, wherever the Good News is preached throughout the world, this woman's deeds will be remembered and discussed.
A sacrifice of love is so touchingly portrayed in the scriptures above. A woman who loved Jesus with all her heart. You see, she had been an "immoral" woman, but when she met her Saviour, her heart had forever been changed. This was her way of expressing to Him, the deepest gratitude of what He had done for her. Isn't this the same way we need to come to Him? We were all "immoral", whatever label you want to use, it is still just sinners. What we bring to Him is our repentance, being truly sorry for what we have done and reaching out to Him. Then we need to accept as this woman did, just accept His forgiveness and mercy. Jesus said where ever the gospel would be preached, this womans story would be told! What a marvelous passage of scripture! It so touched my heart! Whether she really understood Jesus would be killed or not, no one knows for sure. Maybe this was just the only way to show Him how much He had done for her. Either way, we will always read and hear about the Alabaster Jar. We are told to let "love be our highest goal", this couldn't have been portrayed any better. She is a perfect example for us all. Let us never forget what our Lord has done for us!