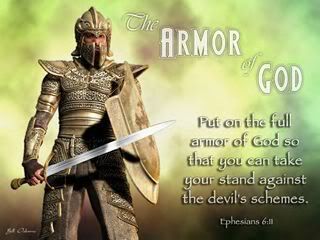 1 Samuel 18:3,4
3-4. Jonathan, out of his deep love for David, made a covenant with him. He formalized it with solemn gifts: his own royal robe and weapons—armor, sword, bow, and belt.
(Commentary)
Jonathan's friendship for David.
The friendship of David and Jonathan was the effect of Divine grace, which produces in true believers one heart and one soul, and causes them to love each other. This union of souls is from partaking in the Spirit of Christ. Where God unites hearts, carnal matters are too weak to separate them. Those who love Christ as their own souls, will be willing to join themselves to him in an everlasting covenant. It was certainly a great proof of the power of God's grace in David, that he was
able to bear all this respect and honour, without being lifted up above measure. (1Sa 18:6-11)
In the Scriptures and this commentary we are told of a special friendship between two very unlikely men. One was the Prince of Israel named Jonathan, and the other a mere shepherd boy named David. The first time they met they developed a bond that would last till death. As we were studying this weeks Bible Study, we were able to go into depths of this union. I have read and studied, but sometimes I get a aha moment, you know when the little light goes on and I get it. The account of Jonathan and David is a true picture of us when we accept Jesus as our Lord and Savior. (From the giving of his robe,armor, sword, bow and belt; their enemies were now the same and they would defend and be honorable to each other as long as they lived.) We put on Christ and He took on our humanity. Of course you know the rest and most important when He forgave us our sins and went to the cross for us. We are new in Him! We have a covenant with God, just as was made between these two friends. Our God will never leave us! Our mutual enemy the devil will not be able to stand against us because of this Covenant. Listen closely sweet friends, we must know who we are in Christ, we must understand about this Covenant! It will bring us freedom in Him and we will know who we are. Then we will also know without a doubt these promises are for us. All of them! If you haven't studied this very important truth, please do. Your walk with God will depend on it! You do have authority over the enemy and your life will show His power in you. Have a very blessed day!