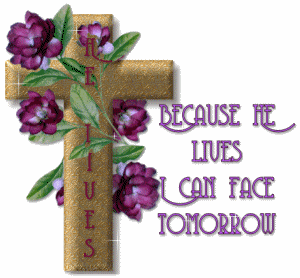 Ephesians 3:14-21 (New Living Translation)
14. " When I think of all this, I fall to my knees and pray to the Father 15. the Creator of everything in heaven and on earth 16. I pray that from his glorious, unlimited resources he will empower you with inner strength through his Spirit. 17. Then Christ will make his home in your hearts as you trust in him. Your roots will grow down into God's love and keep you strong. 18. And may you have the power to understand, as all God's people should, how wide, how long, how high, and how deep his love is. 19. May you experience the love of Christ, though it is too great to understand fully. Then you will be made complete with all the fullness of life and power that comes from God.
20. Now all glory to God, who is able, through his mighty power at work within us, to accomplish infinitely more than we might ask or think. 21. Glory to him in the church and in Christ Jesus through all generations forever and ever! Amen."
Words are at a loss to describe how amazing, how wonderful and exciting this scripture is. Have I read it before? yes. I have been comforted by it many times before, but as I was reading it again, the Holy Spirit made it so real for me. The power and the promises were overwhelming! Is it possible to live a life pleasing to God? it sure sounds to me like it is. We read and we know that trials and problems will always be on our doorstep, then we are also told what we are supposed to do. Will we be discouraged and not understand everything we go through? Of course! In order for us to grow spiritually, we will have growing pains just like children do as they grow. Is it all worth it? Most definitely! In Him, we are complete. He has made every provision for us to overcome. I know the events that are taking place causes fear and unsettling. We are faced with things I never imagined. People are losing their security in this world and we are all affected! BUT, we are not without hope! When you read these scriptures, do you not feel in your spirit, faith and hope rising up inside of you? As I mentioned above, I am struggling with words to describe what is in my heart! God is so good, He loves us, He created us! Won't you believe that if you trust Him, He will take care of you. Above everything we can ask or think about, He has already been working on our behalf. I pray for you as you read this, that God would strengthen you and give you confidence as you look to Him, you will find peace and rest for your soul. Then listen to Him as He gives you the answers and shows you the way you should go. He does have a master plan for your life. God Bless you!