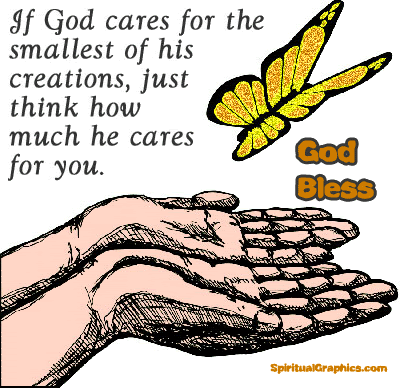 Psalm 50:10 (New International Version)
10 for every animal of the forest is mine, and the cattle on a thousand hills.
God owns everything, even the cattle on a thousand hills, He created everything on this earth with His words. "And God Said".Over and over again we are told how He made everything including us, in His image, He created us. He is our Father and we are His children. He loves us and has a plan for our lives. It is mind boggling to think about all that He did, and the reason why. All He ever wanted was a relationship with us, because He loves us so much. How do you have a relationship with someone? By spending time with them of course! God is pleased when we come to Him; whether it is praising, praying for a need we have, or just to sit in His presence. Now if He owns everything, and we are His children, and He tells us we can ask whatever we will in His name, He would give it to us; what is the problem? We need to get this in our spirit that He will make provisions for us to do what He has assigned to us. We have to step out in faith, believing what He said will surely come to pass. We all have a job to do, a plan has been laid out for us, today will you just ask Jesus what is His will for your life, what do you need to be doing; ask for direction, then you will experience that peace that passes all understanding. Reach out and touch Him, I promise you, He is waiting!